SME Interview: An interview with Vijay Kumar, Founder of Moverszone a moving focused fulfilment platform and also a Zoho One implementation partner. Vijay talks about his journey, challenges and effectiveness of automating an old school business.
How did the concept of Moverszone originate and what was the gap in the market that you wanted to address?
We started Moverszone in July 2016 as a marketplace to help clients organize their moving plans. Up and until then in the UAE, the local moving business had been an unorganized segment and people used their friends and family recommended movers to them and they used to do physical surveys and quote a price. A majority of companies, especially for local moves, did not have any websites or any way to measure their quality and there was no standardisation in pricing mechanisms. We continued working as a marketplace, primarily a lead generation engine for the first 2 years while we gathered enough knowledge on the business and the best vendors who we can partner with. We also realized then that there was no value that we added to the client and the lead engine model did not seem scalable.
When did the model evolve into a fulfilment partner rather than just a lead generation engine?
Summer of 2018 was a turning point, when we realized that this model needs change, and we need to be the market differentiator by not only helping with the quotes, but also provide the best fulfilment service. Today, Moverszone is regarded as a mid-range but a highly qualified moving company.
How did you start automating your business ?
Automation started playing an important role in us upgrading our offering, and becoming a fulfilment partner. Leads were managed with defined TATs assigned to each job. We also standardized our pricing model around the size of the move. The technology has evolved a lot as well. Today it is a SAAS market, 6-10 years back businesses were on hosted where they needed to maintain servers and everything was desktop based. Getting a software today is simple. The 2 most important things required for any business is a CRM and a good ERP. They are all low code or no code kind of software. One does not need any technical background to start working on these. The key is that every resource should be accommodated in the information system. We are proudly a completely paperless business today. The SAAS model has also made it highly affordable for small businesses to adopt the solutions and add modules as and when required. There are so many players like Salesforce, Oracle, Microsoft and Zoho offering an entire suite of services. We went ahead with Zoho and still feel it is best suited for small business requirements.
What kind of investment in automation are small businesses looking at ?
We believe Zoho has been the best for small businesses as it is a simple 'do it yourself' kind of model. The cost of getting a CRM and an ERP implemented could be as low as $300 a month for 10 users. You can then choose which are the associated tools to further automate your business but the option of having different modules helps the business decide the amount of automation they need. For small businesses, these costs in my opinion are low, given their ability to give single screen access to promoters and business owners.
How have your partners adapted to the technology once you digitized your offering in the market
Our partners initially took time to get used to our technology as they were not used to working around any app based systems. It took effort in training our valued partners, spend time teaching them on how to keep up with their committed timeline. Our business model is linked to their TAT, quality of move and feedback. Also, they needed to know that bad feedback also meant that they lose money on the job. Parallelly, the shared economy model took off in other industries also. Players like Zomato and Talabat did it in the food industry, Amazon in e-commerce is constantly innovating. This enables a business to focus on their core deliverable which is to provide the best output. Our vendors then had to come in line and respect the ups and downs of this service. Our move partners now have a calendar to track their moves even a month in advance, they can plan how to allocate resources. Moving day videos have helped them understanding the business from a client centric view as well. Even the billing and invoicing is managed by Moverszone which meant they could fulfil their jobs the best.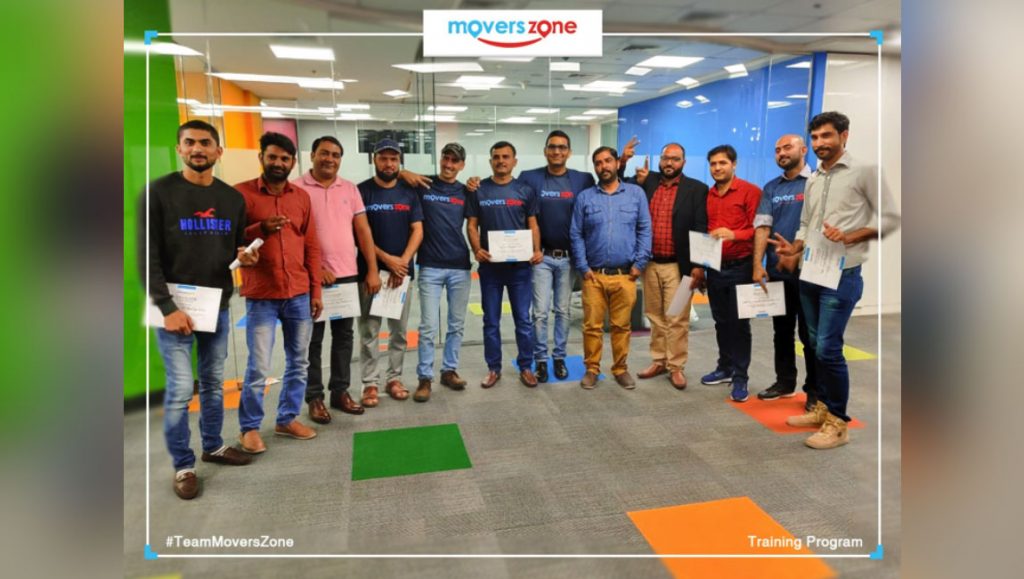 What were the key pushes in a market like UAE to enable digital transformation?
One of the major moves which helped push the digital transformation was the introduction of VAT and the services around it. You have to have an accounting software approved by the government. This helped a lot of channel partners to come into the market and they can now suggest what is best suited for their size of business.
Your experience of working with an unorganized vendor partner channel as your brand is at risk every time a move happens. How do you mitigate this?
As an aggregator, we have to managed 2 aspects of business. We have to manage the demand and supply. We have to manage the traction of customers and match it off with the right vendors . We have videos regarding moving day, giving them a brief overview of how the app needs to be used. We have 2 apps, one for the company owner and one for the fleet. Company owners can decide how many people they want to assign as per the scope of the move. There is enough time spent with the vendors to teach them soft skills and train them on their behaviour with clients. UAE is a very diverse markets with so many nationalities and they have to understand and respect each client's view. Rewards and recognition goes out to good jobs done and critical feedback is provided where the standard was not up to the mark. We do a post move survey with the client and that helps us to keep improving our services. We are a platform and we cannot be on the ground every day, hence these virtual tools ensure we are competitive and we are the closest to satisfying every customer need.
What has been the learnings, changes and coping mechanisms since the start of COVID 19
During the lockdowns, there were many challenges. There were no clear guidelines initially on the do's and don'ts. Then Dubai Police came up with relevant permissions and guidelines to move as this industry is resident linked and if they are due to move out, it has to be done. We did extensive sanitization on our facility, the movers were trained to sanitize regularly, wear masks and gloves and respect the steps taken by the government. Trucks were sanitized after every move. We did a lot of research and we adhered to all the permission clauses. So the cluelessness lasted for a month, but once we were clear, we have kept our head above water. Technology and online processes have also helped in making this as contactless as possible. There was a dip in the business, which is the norm given the scenario, but we thought outside the box and started partnerships with other marketplaces like JustMop to cross-sell their products on our portal as some of their services are move associated services. This has helped chip in with some additional revenue channels also.
Views on the digital transformation journey in the UAE
The COVID 19 situation really escalated the digital transformation journey for the country. People have moved away from the notion that physical meetings are required to close deals, have to go to shops to get merchandise or have to leave the house to get fuel. There is now a home-bound solution for every service required. This has urged offline businesses to equip themselves digitally and do it quickly. The phone has now become a one stop shop for all services.
Offshoring vs Insourcing, what is the best balance for an online business ?
We have always been a bootstrapped start up and the idea was to keep the costs low, rely on automation and be profitable as quickly as possible. One of the major decision we had to take was to offshore some of our operational tasks and have only people who generate revenue based out of UAE. This has worked well for our business as we are able to find a much cheaper and equally efficient resource in countries like India and Pakistan. We have also focused on creating loyalty with our vendor partners and this means keeping the vendor interested and believe in our tech and that they can partner and grow with us.
How does the next 12 months look for Moverszone ?
We have started our beta model in India since January this year. There is a lot of opportunity with India being such a huge market. We are trying to be smart about the services to offer and it's a cost conscious market, so we also have to ensure that we are competitive and profitable. Fortunately, it's been fairly successful so far and we hope to increase our partner base and make it big. We value every $ of investment and we track ROI for every $ spent.
Any words of wisdom for first time entrepreneurs who are looking out of their day job to start something new
A lot of new entrepreneurs come into the ecosystem when they are pushed to the wall. Mine started in a similar fashion in 2012. The idea is to start something economical and one should be aware that you will never get any model right first up. However, it will allow you to spend a lot more time researching and finding out the best solution of what is available. Once, the ideation stage is over, try and build a sustainable business, do not try to do something just to raise new rounds of funding. Try to push the initial funding as far as possible. In the UAE, the initial cost of setting up a business is slightly higher, as the infrastructure available is world class and the company set up process is quick. It is a market where you can start generating revenue faster than in most countries. With so many incubators available to choose from, it's an easy call. If these things are done right, its then only a matter of time before things start turning around for anyone.